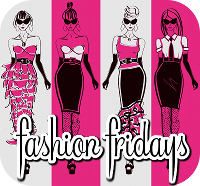 Today I am linking up with Kori at Blonde Episodes
for Fashion Friday. This is a new linkup (only 2 weeks old ) and I am hap-hap-happy to share it with you all. Hopefully you will all find something fashion-worthy to talk about today and link up, too!
Today I am going to share with you some of my favorite Spring/Summer dresses from Tracy Negoshian.
Tracy has built her brand around trying to provide quality fashion to women who like to be fashionable but can't afford the high prices of high end designers. Her bright colors and bold prints are super trendy.
I think this Brit Bell Sleeve dress is a perf combination of girly and summery.
The colors are fresh and almost have a nautical feel.
This dress comes in other colors but this palette is my favorite.
I love the Ansley Maxi Dress with it's bold colors and funky print.
I am not normally a maxi dress person, but I think I want this one!
I could tote see Emily Maynard wearing this fun maxi.
The Patti Petal sleeve dress has fun and trendy geometric shapes and a lovely color scheme. My aunt picked this dress out as one of her favorites for me.
Maybe since she thinks I will look nice in it she will buy it for me ;)
The Adriana One-Shoulder dress is my absolute favorite! I love the colors and the style.
As soon as I actually buy summer clothes I am getting this number.
From my past few fashion related posts you can tell I love bright and bold colors for summer and I love geometric patterns. I can't wait to sport some this summer. Go see what fashions everyone else is buzzing about over at Blonde Episodes