Before I get to the jist of this post, I am going to confess. I am so behind on blog reading. It is TRULY shameful. I use to go to blogger every hour, and today I get on and realized I have missed so much in my blog friends lives. I am going to make it up to you with bookoo's of comments when I have *time* oh and I started writing this post like 4 days ago and here I am finally finishing it. I was going to finish it last night but apparently blogger was having a meltdown. so here we go...
So where have I been besides MIA? Busy little bee. Work has been hectic since the storms, we do travel for FEMA and FEMA contractors. Plus, I just haven't been here in the head. My couponing takes up a large bit of time (my dad says I am now addicted) but I sweetly remind him, I don't believe in addiction and that I am just helping the helpless.
As much as I truly love couponing now -- and helping others... I have treated myself to two little goodies. This week at Rite-Aid EOS lip balms are on sale for $2.99 and there is a rebate for $2 which makes them only .99 cents. I have been wanting to try them but could only find the "summer fruit" flavor. So whilst on sale I grabbed tangerine and honeysuckle honeydew. Lurveee them.
I feel bad cause I haven't linked up with my weight loss gang in 2 weeks and was going to last night but as previously stated blogger was in manic mode. So, since I did NOT get to link up for the weight loss challenge yesterday I will do today... or I will participate... not link up since all of yesterday's posts are gone and there is no where to link up :[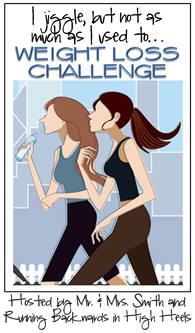 Very happy with some of the progress I have made on the challenge (remember, I am no longer doing #'s.. not til the end). Still eating healthy and losing weight, inches, noticing lots of changes!!! This past week had a few little ups and downs as far as appetite was concerned. I was not that hungry at all then all the sudden felt the urge to eat. I ate a couple of unhealthy things but still lost weight. It was nice but can't cheat all the time.
Clothes are getting bigger/not fitting. I have a weird body type (and realistic expectations) so I don't expect to drop a ton of sizes. I have wide hips and have a phobia of clothes being too tight. Also at my smallest, I was a size 8 so don't expect to go any lower than that... or even that low.
I am almost ready to run my 5k... I ran 3.8 on Wednesday night and felt awesome afterwards. For me, the hardest part is getting past that first 1.3-1.5 mile marker. Then I hydrate with some water and it's easy breezy. I was going to run the Zoo 5k this weekend but decided I was just too tired and did not want to wake up at O' Dark Thirty on a Saturday am! I will be running tonight though. It's my short run night so I will just be running 2 miles.
There ya go... a little update. I can't wait til the end (how is it only 2 weeks away? geeez) and I can share with everyone the total number. I wish I had taken a before pic of my figure maybe in my swimsuit but of course did not want to do that.... or harm your eyes. I am in a wedding in a little less than a month... so from here to now of course it's crunch time. Just wanna look fly.